What is the Characteristic of Outdoor Optical Receivers?
Views:0 Author:Site Editor Publish Time: 2021-06-15 Origin:Site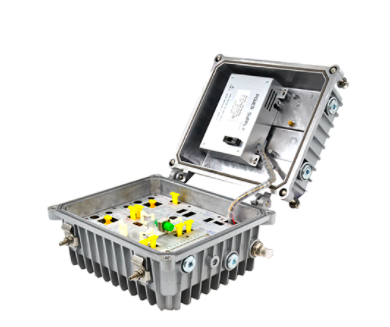 With the increase of network transmission, electric communication has been far from meeting the requirements of a communication rate and communication capacity. Optical fiber communication has become a mainstream means of communication transmission. Driven by this background, the optical receiver, as an indispensable part of optical fiber communication, has been widely concerned and studied. Therefore, the development of ultra-high speed optical receiver system with independent intellectual property rights is of great significance for the construction of China's information highway.

Here is the content list:
How to realize the function of the outdoor optical receiver?
Why can outdoor optical receivers be widely used?
What is the Characteristic of Outdoor Optical Receivers?
How to realize the function of the outdoor optical receiver?
Optical receiver is one of the three major components of optical fiber communication system. Its function is to restore the optical pulse signal transmitted from the optical fiber line to the electrical signal before transmission after correction, amplification and conversion, and then send it to the electrical receiver. After the optical signal transmitted by the optical transmitter is transmitted, not only the amplitude is attenuated, but also the pulse waveform is broadened. The function of the optical receiver is to detect the weak optical signal transmitted, amplify, shape and regenerate it into the original transmission signal.
Why can outdoor optical receivers be widely used?
Outdoor optical receivers are mainly used in buildings, communities or villages with concentrated users and high-level multi output distribution networks. It is also suitable for the place where it is inconvenient to power on and a single device drives many users. In optical communication system, an outdoor optical receiver is widely used because of its high sensitivity, fast response, low noise, low cost and high reliability, and it can also achieve network integration with ONU or EOC, which is suitable for large and medium-sized networks.
What is the Characteristic of Outdoor Optical Receivers?
The outdoor light receiver has a series of characteristics.
1. The waterproof aluminum shell is adopted, and the waterproof grade can reach IP65, which is convenient for the field installation.
2. Signal channels and power supplies use combined lightning protection measures to minimize equipment damage caused by lightning strikes.
3. Double shield board can ensure excellent EMC index.
4. Advanced GaAs low noise amplifier circuit can improve the receiving sensitivity.
5. The output level remains unchanged. CTB and CSO remained unchanged.
6. Ten pieces of light can display more accurate optical power, which is convenient for engineers to know the received optical power in time and carry out network debugging.
7. Faucet and distributor can be interchanged.
8. With an internal button fuse box, it can be replaced easily and quickly.
9. Using anti surge lighting circuit, the test can be carried out without opening the shell.
10. It has complete functions and adopts plug-in structure to ensure the good performance and contact of the outdoor optical receiver.
In recent years, due to the development of high-speed and high-capacity optical fiber communication and epitaxial growth technology, as well as the demand for high-speed and high-performance devices, Europe, America, Japan and other developed countries have invested a lot of manpower and material resources in the research of optical receiver module, including the material growth, preparation of high-speed and low-noise devices, integrated circuit technology, optoelectronic coupling and application of various circuit technologies Both sides have achieved great success. All the products produced by Hengchi Electronic Equipment Co., Ltd. can stably serve in the optical communication project of CATV broadband system and obtain a high evaluation. If you are engaged in outdoor light receiver related work or looking for a suitable outdoor light receiver, you can consider our cost-effective products.